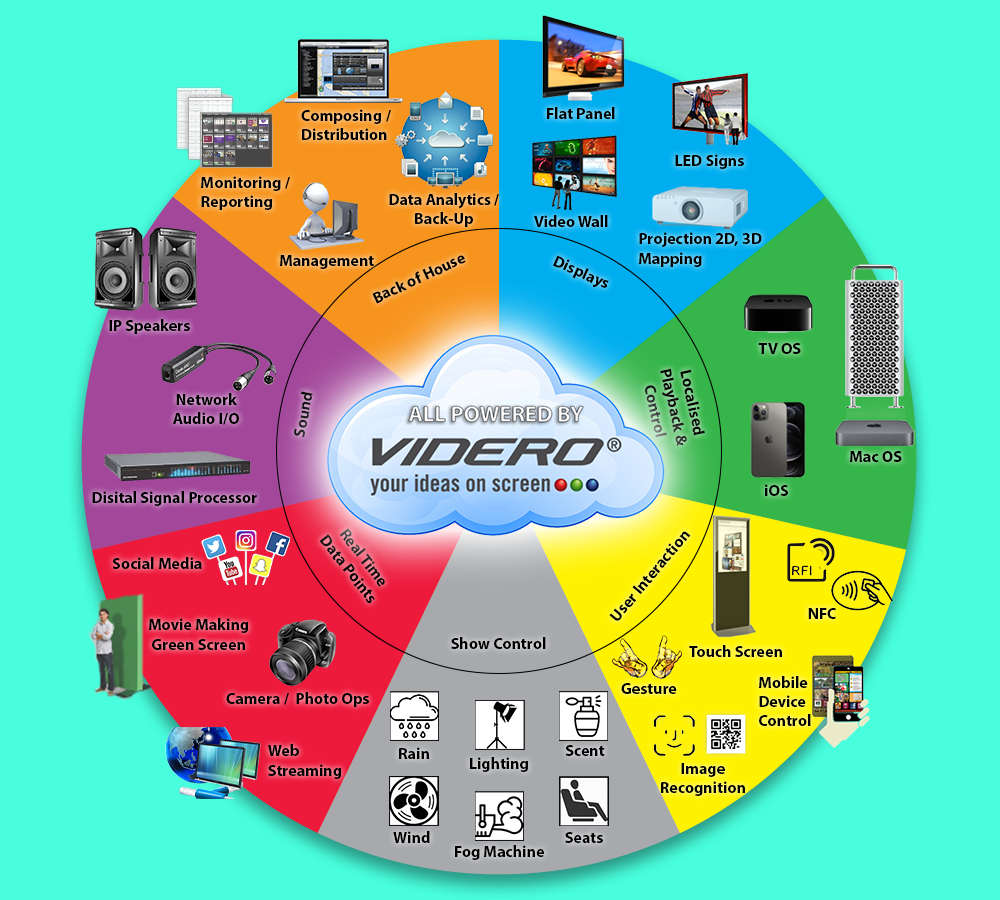 From a single screen presentation to a large, video mapping installation, whether on smartphones or tablets, Videro® is a leap forward in digital content management and display that allows a comprehensive yet straightforward and cost-effective platform for multimedia delivery across an array of devices.
Videro is a revolutionary software platform based on Apple's EcoSystem. It combines the capabilities of video, audio, web-based content playback, media storage, show control, lighting control, digital signage, event management with on-the-fly personalization into one streamlined and integrated application.
It's secure, flexible, scalable, completely plug-and-play with the ability to raise your guests' experience to new heights while lowering your infrastructure and programming costs. Using Videro with Apple off-the-shelf technology changes everything. Sourcing, savings, and ease of replacement are simple and reliable.
The feature, speed, and capabilities of the newest Apple Silicone chips will be game-changing.
Imagine tapping into transmedia storytelling, custom content based on image recognition like products, user's age or gender, knowledge, true interactivity, gamification, seasonal or corporate imagery, and the freedom to change it all at the swipe of a finger.
Content management and customer relationship databases can easily be integrated with Videro. Any kind of digitized inventory is easily accessible for use in multiple ways.
This is the real Internet of Things Audio/Video; future-proofed technology at its best.
See how Videro on Apple can make your brand more immersive, more compelling, more personalized, more of everything you need to tell your story.
More Information:
Brian Edwards: [email protected] – 310-748-8999
or
Travis Downing: [email protected] – 310-321-2397